Hi, this is Andrew Dymond's webpage for Duracell, the one-man chip-tune drum-trigger thing.
Salut, vous êtes sur le page web de Duracell, le projet solo d'André Diamant, le truc avec la batterie qui déclanche des jeux videos 8-bit.

From now on I'll be using the myspace page for tour updates, photos and other news, and this page will be more of an archive place
Pour les dates de tournée, photos et news je vais utiliser le myspace, et ce site servira désormais d'archive.

If you want to organise a show or just say hello: andreduracell@gmail.com
Pour organiser un concert ou simplement dire bonjour: andreduracell@gmail.com

Scroll !
Faites défiler !



photo by Stuart Southwell, Milton Keynes 07/2005


Video

:
Space Harrier @ The Umpire

,

London

(wmv)
Space Harrier + Turrican @barden's boudoir (wmv) , @barden's boudoir (quicktime), London

videoarchive

youtube video list:
grnd zero
barden's boudoir
the umpire
voodoo rooms
palais de tokyo 1 palais de tokyo 2
fondation cartier



Audio

: (mp3@192kbps)
Ninja Spirit

(studio)
Space Harrier @ le Clandé, Toulouse (old version)


écoutez les originaux /check out the originals:
Space Harrier (mp3 amiga rip medley of whole game) composed by Hiroshi Miyauchi
GET READY!

Turrican level 1.2 (mp3 amiga rip) composed by Chris Huelsbeck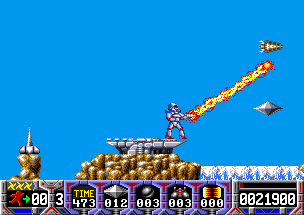 Ninja Spirit (SidAmp Rip) by Martin Walker



> Words / Ecrits

in english:
Interview for Gintramp
Ralph Cowling wrote this cool piece
Fail me
NME
Wikipedia

en français:
Vodkacoca
Le Progrès
Etherreal
Duracell aux Eurockéennes de Belfort


> Equipment

bass drum, snare drum, floor tom, all with triggers (cheap piezo pickups).triggers go into mixer for preamp, then into a clavia nord modular G2 , back into the mixer into an EQ>power amp>speakers. The G2 is a digital modular synth that looks like a simple faceless rack and is pretty useless without a computer, that's why there's a laptop behind me, running the G2 software. You can download a special (software emulation) version of the program and get an idea of how the interface works here. for the first duracell set (lightning bolt tribute) I used a micromodular and a whammy.